Calling Oyster Lovers and Enthusiasts, or just the oyster curious!
Two Experiences at Flaggy Shore Oysters to leave you All Shuck UP!!…….
Note: To Shuck an oyster is to open an oyster… in case you were confused 
OUR TOURS
We offer two exciting experiences in our premises, at New Quay Pier, Co. Clare. Along the Wild Atlantic Way, mid-way between Galway and the Cliffs of Moher.
You can choose between our "Shuck Off" Experience or our "Go Shuck Yourself" Experience depending on your Mood!
See below for details.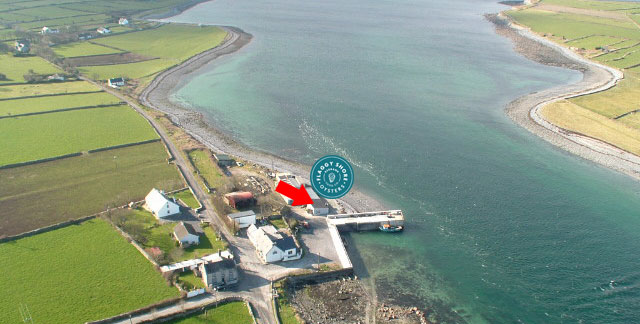 Learn to shuck like a pro!
Shuck Off for Oyster lovers:
Join us on an interactive and enthralling tour of all things oysters.
You will be facilitated by Gerry (aka Dad!) a marine Biologist who has been working with oysters and shellfish for over 35 years, and Ciara (aka Daughter!) who has grown up around the business, qualified in Outdoor Education, and now work together with her dad full time. We will teach you of the local marine life by introducing you to our "pet tank", how oysters are farmed, and importantly, how to shuck (open) them yourself, before you sit and enjoy all you can eat oysters, paired with a carefully chosen wine.
The Experience is held indoors (so weather nor tide does not affect) in the red building on the pier.
Tuesday – Friday @2pm.
Saturdays @12pm.
Booking required.
Duration 1.5 hrs. 
Cost – €50 per person
Go Shuck Yourself:
Join us for a brief lesson on oysters and Shucking masterclass followed by a take away oyster picnic. This includes a dozen Oysters, lemon, tabasco, an oyster knife and equipment to take with you to a rock along the flaggy shore, to the Burren, along the Co. Clare coast or as you watch the sunset over the Cliffs of Moher for you to shuck till your hearts content.
Duration: 20 mins.

Open Tues – Friday @12pm and 3:30pm
Saturdays 2pm and 2:30pm

Prior Booking Required
Cost: €25 per person